Ever since I saw a photo of Tina's gorgeous Indi wearing a stunning Pettiskirt on her
blog
I knew that I wanted one for my girls. Part of the reason is I could imagine all the stunning photos I could take with them modelling one.
So I read a few tutorials, namely
this one
and
this one
, and when I happened upon the right fabric at my local fabric store, temptation got the better of me.
Here is the result...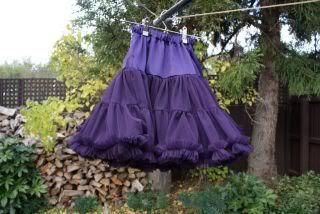 I totally understand why you need to pay around $100NZD to buy one of these, the materials alone cost me around $45 (including
4
reels of cotton) and it took a good 8 hours of solid work to get this thing made.
I would love to show you photos of my girls wearing it, but I have decided to keep it for Melissa's birthday which is at the start of June. So more photos will come then.
Next job is to psych myself into making another one for Hannah's birthday... thank goodness this isn't until October.